B.O.L.T. 2018: Bubbles and Champagne
Saturday, April 21, 2018 | A special event for the benefit of Pius X High School
We toasted B.O.L.T. 2018 on Saturday, April 21, 2018, at Pius X High School's 33rd annual benefit dinner with live and silent auctions and lottery. This year's gala theme was 'Champagne & Bubbles.' As we popped the cork and let the bubbles float, the exciting evening revealed wonderful auction items with on-line bidding and our famous lottery with cash prizes totaling $15,000. These were just a couple of our surprises for the night.
For 33 years, B.O.L.T. (Building Outstanding Leaders Today) has supported the Pius X High School mission and has worked to Restore All Things in Christ by financing capital improvements which maintains affordable tuition for all students and their families.
---
Why it matters
Pius X High School currently has an enrollment of 1,251 students. You are providing a true foundation for a life in Christ and offering our students a high level of academic excellence. This year's funds went towards the purchase of state of the art equipment for the
new classroom expansion project
updating existing classrooms and support of the Booster Club.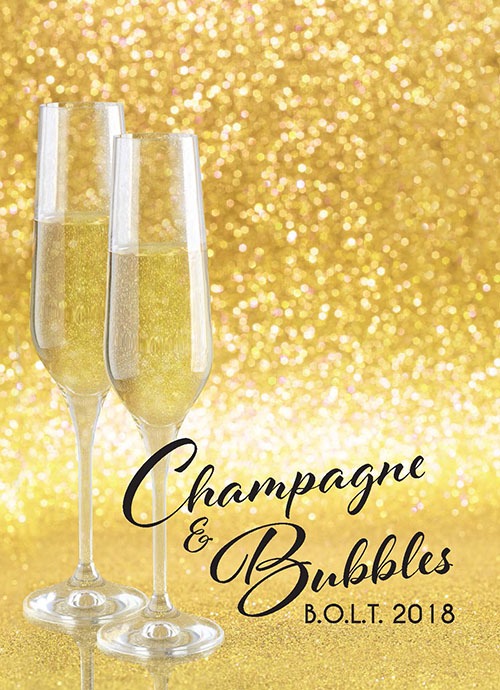 Special thanks are extended to you, and our many volunteers, businesses and friends who made B.O.L.T. 2018 a fabulous success. You raised more than $278,000 to support Pius X and its mission. The proceeds helped us finish raising money for the classroom project that will be started in the spring of 2018, as well as supporting many Booster Club activities.
We invite you to be a part of B.O.L.T. 2019 as a guest, volunteer, and / or donor.
For information, contact Kathryn Bergen • 402-488-0931 • Kathryn.Bergen@piusx.net
Event schedule and information
April 21, 2018

Saturday Evening
Pius X High School
6000 A Street
Lincoln, Nebraska

Schedule

5 p.m.

Mass in the Pius X Chapel
(for those wishing to attend)

6 p.m.

Silent Auction & Social Hour

7:30 p.m.

Dinner

8:30 p.m.

Live Auction & Lottery Drawing
How to Get Involved in 2019
Come to the event
Lottery Tickets
Online Auction
Corporate Letter
Corporate Table RSVP
Guest List Form
2018 B.O.L.T. Executive Committee
Fr. James Meysenburg
Deb Schulte
Steve & Anjilynn Antonelli
Brent & Tammy Bunz
Pat & Wendy Goracke
Michael & Monica Henkenius
Pat & Sarah Hodge
John & Jody Olsson
Mark & Cindy Schilmoeller
Ryan & Shelly Theil
Bert & Sue Wilkinson
PLATINUM

 
DIAMOND
GOLD
SILVER

Action Plumbing, Heating & Air Conditioning Inc.

Ameritas Life Insurance Corporation

Bell & Kerr

Benefit Management Corporation

Brester Construction Inc.

Butherus Maser & Love Funeral Home

Clark Architects Collaborative

Cline, Williams, Wright, Johnson & Oldfather L.L.P.

Cornhusker Bank

Cornhusker Tile / Midwest Tile

Crete Carrier

Custom Machine & Design Inc.

Endacott, Peetz & Timmer

FACTS / A Nelnet Company

First National Bank

Glass Edge

HBE – CPA's & Consultants / Wealth Management

Hohl Orthodontics / Dr. Rebecca H. Hohl

Kidwell Electric

KPMG LLP

Lincoln Industries

Lincoln Internal Medicine Associates

Lincoln Pediatric Group / Phil Boucher M.D.

Madonna Rehabilitation Hospital

Midwest Bank at Lincoln

Miller Seed Co.

Nebraska Nursery and Color Gardens

Nebraska Dermatology, LLC / Rex F. Largen M.D.

Nebraska Orthopaedic and Sports Medicine, PC /
Dr. & Mrs. Robert W. Dugas 

Nelnet *

Olsson Associates

Perry, Guthery, Haase & Gessford, PC

Raising Cane's

Sampson Construction Co., Inc.

Sid Dillon Buick Nissan Hyundai Saab / Tim & Kate Pieper

SolutionOne / John & Sheila Kuchta

System Technology Services

The Clark Enersen Partners

U.S. Bank

Union Bank and Trust *

Vacek Family Dentistry

Vector Structural Design

Wells Fargo

Westgate Bank