Fallen veterans display at Pius X:
Remembering the service of Nebraska veterans
To say that Maddie Simon was unstoppable in high school would be an understatement. Now she's proving herself on courts all throughout the Big Ten for the Nebraska Cornhuskers.
A 2015 Pius X graduate, Simon was a dual-sport athlete in high school. During her senior year, Simon helped lead the Bolts to a basketball state championship in Class B. She was awarded the Gatorade Nebraska Girls Basketball Player of the Year at the conclusion of that season.
Senior Haley Hall remembers playing with Simon as a freshman on the basketball team. "I always tried to push myself to be on her level," Hall said. "Everyone knew she'd go far in her basketball career."
Simon's athletic talents didn't stop there. Each spring, she ran the 100 meter hurdles and the 300 meter hurdles for track, where she qualified for State all four years of high school.
However, now at Nebraska, Simon has focused her all her attention to the court.
She admits that Pius X pointed her in the right direction for her basketball career.
"Playing basketball for Pius X taught me the skills I needed for the next level," Simon said. "It also showed me what it meant to be a part of a family, playing for so much more than yourself."
Going from high school to college ball wasn't easy for the junior, though. At the beginning of her career, Simon had to find her niche on the team.
"I used to get nervous before big games," Simon admitted. "From a basketball standpoint, going from high school basketball to college was very challenging because of the speed and competition of the game."
However, the Nebraska 6'2" forward has learned to cope with the different aspects of the big stage. Simon went from averaging 14.2 minutes per game her freshman year to 25.5 so far this season. With more minutes, Simon's points per game increased from 5.0 points her freshman year to 10.8 points this season. "I've learned to just relax, have fun, and enjoy the game I love!" Simon stated.
Being a Division 1 student-athlete isn't simple, so Simon praises Pius X for assisting her off the court as well.
"Being a college athlete is difficult, but I think Pius X prepared me and helped me adjust," Simon noted.
Maddie Simon continues to amaze fans and put the ball in the net for the Big Red.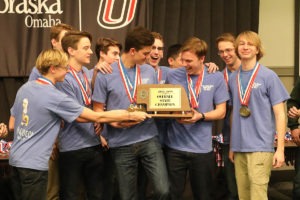 Pius X won the 2019 Academic Decathlon State Championship at the University of Nebraska Omaha. The highest scoring student from Pius X was Isaac Kramer.
The National Honor Society at Pius X held its annual honors event on February 11 in the LPAC. Students were honored for their academics and service.
Eight Thunderbolt wrestlers have qualified for this week's state wrestling championships. The meet takes place at the CHI Center in Omaha this Thursday, Friday and