Results and pictures from UNL Math Day
From the
UNL Math Day
at the University of Nebraska – Lincoln: The PROBE is a 25-question, 60-minute, no calculator multiple choice individual test—it stands for Problems Requiring Original Brilliant Effort. (Learn more about our
Math Department and Math Club
)
Pius X Top PROBE I Finishers (out of 1,359 students!)
115th: Lavie Nguyen (score of 54) 127th: Lucas Huber (score of 53) 139th: Brandon Birch (score of 52) 178th: Matthew Naumann (score of 50) 208th: Thomas Butler (score of 48)
PROBE Team Ranking (average of our top 5 scorers):
9th Place in Division II (out of 13 teams) 21st Place Overall (out of 99 total teams!)
Quiz Bowl Results: (double-elimination tournament)
Lost to Scott/Moore Middle School Beat Scottsbluff High School Beat Fremont High School Lost to Skutt Catholic High School
Did not place overall
Here is a list of the students that attended—asterisks were on our quiz bowl team that day.
Freshmen
Alyssa Alonso Carl Lin
Sophomore
Dana Tran *Gregory Johnson Mathilde Pepino Matthew Naumann Ngan Nguyen Thomas Butler
Junior
Brenna Mazour Khoa Tran Nick Stephan Andrew Kotopka
Seniors
*Brandon Birch *Crispin Corpuz Erin Kee Gabriel Clark Layla Nguyen Lavie (An) Nguyen *Lucas Huber *Thomas Kotopka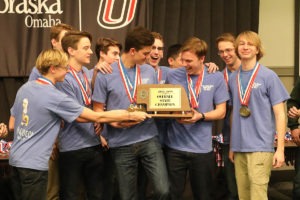 Pius X won the 2019 Academic Decathlon State Championship at the University of Nebraska Omaha. The highest scoring student from Pius X was Isaac Kramer.
The National Honor Society at Pius X held its annual honors event on February 11 in the LPAC. Students were honored for their academics and service.
Eight Thunderbolt wrestlers have qualified for this week's state wrestling championships. The meet takes place at the CHI Center in Omaha this Thursday, Friday and