"The idea is that the city that opens the same book closes it in greater harmony."  — Mary McGrory, The Washington Post, March 17, 2002
Community reading programs have been around since 1998 when the Washington Center for the Book first pioneered the concept with If All Seattle Read the Same Book.  The purpose of the program was to encourage people of the community to come together by reading and discussing a common book.
Lincoln City Libraries adopted a similar community reading model in 2002 with the launch of One Book, One Lincoln.  For the past 17 years, citizens of Lincoln have been encouraged to read the same book each fall and participate in community wide book discussions.  This program creates  opportunities for a wide spectrum of people to find a common bond through their shared reading experience.
The 2018 One Book, One Lincoln selection is Killers of the Flower Moon: The Osage Murders and the Birth of the FBI by David Grann.  From the Lincoln City Libraries website:
A twisting, haunting true-life murder mystery about one of the most monstrous crimes in American history.

In the 1920s, the richest people per capita in the world were members of the Osage Nation in Oklahoma. After oil was discovered beneath their land, the Osage rode in chauffeured automobiles, built mansions, and sent their children to study in Europe.

Then, one by one, the Osage began to be killed off. The family of an Osage woman, Mollie Burkhart, became a prime target. One of her relatives was shot. Another was poisoned. And it was just the beginning, as more and more Osage were dying under mysterious circumstances, and many of those who dared to investigate the killings were themselves murdered.

As the death toll rose, the newly created FBI took up the case, and the young director, J. Edgar Hoover, turned to a former Texas Ranger named Tom White to try to unravel the mystery. White put together an undercover team, including a Native American agent who infiltrated the region, and together with the Osage began to expose one of the most chilling conspiracies in American history."
Visit the One Book, One Lincoln website for more information about this title and reading events happening in Lincoln!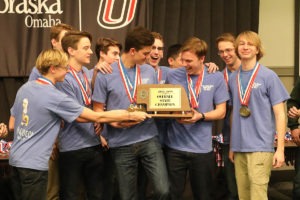 Pius X won the 2019 Academic Decathlon State Championship at the University of Nebraska Omaha. The highest scoring student from Pius X was Isaac Kramer.
The National Honor Society at Pius X held its annual honors event on February 11 in the LPAC. Students were honored for their academics and service.
Eight Thunderbolt wrestlers have qualified for this week's state wrestling championships. The meet takes place at the CHI Center in Omaha this Thursday, Friday and