Epiphany Mass opens second semester (video and photos)
Our first day back in school of the school year and the first after the new year, we held our annual Epiphany Mass and program this morning. It as a colorful procession of flags, as more than 20 students carried in the flag of their native country, either their own birth country, or that of their parents.
Pius X students in AP Physics (PACE) and Accelerated Physics participated in the 26th annual Pius X Machine Contest based on the Rube Goldberg Machine Contest.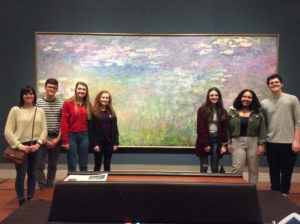 A joint group of 36 students from the Academic Decathlon Program and AP Art History took a trip to Kansas City this weekend to visit
Story by Layla Nguyen Snow and ice was not enough to stop the Pius X Ministry Team from hosting its first Restore on February 27.