Hands-on learning about Multiple Intelligences Theory
These students are learning something new by engaging in children's activities. Well, sort of. Amy Shonka's Child Development class is learning about Howard Gardner's Theory of Multiple Intelligences by experiencing a variety of activities designed to encourage development of each of the areas: visual-spatial, verbal-linguistic, interpersonal, musical-rhythmic, bodily-kinesthetic, intrapersonal, logical-mathematical, and naturalist.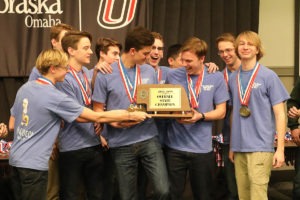 Pius X won the 2019 Academic Decathlon State Championship at the University of Nebraska Omaha. The highest scoring student from Pius X was Isaac Kramer.
The National Honor Society at Pius X held its annual honors event on February 11 in the LPAC. Students were honored for their academics and service.
Eight Thunderbolt wrestlers have qualified for this week's state wrestling championships. The meet takes place at the CHI Center in Omaha this Thursday, Friday and