Creating campaigns for the next leader of 'Animal Farm'
It was campaign season in Mark Hansen's Modern Literature classes, as students developed campaigns for various animal characters from George Orwell's book 'Animal Farm,' a political satire first published in 1945. Students made their case for why their animal would be the best leader, using the animal's characteristics, personality and key storylines from the book.
Also emphasized were elements that make for a good campaign, like a catchy slogan and repeatable messaging. Slogans included:
– Don't sleep on the sheep,
– Ya'll gonna be fine if you vote for the swine,
– Mess with Pupper, You become supper.
Pius X students in AP Physics (PACE) and Accelerated Physics participated in the 26th annual Pius X Machine Contest based on the Rube Goldberg Machine Contest.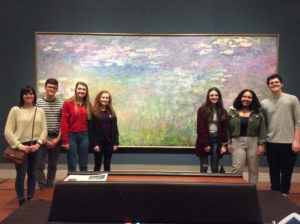 A joint group of 36 students from the Academic Decathlon Program and AP Art History took a trip to Kansas City this weekend to visit
Story by Layla Nguyen Snow and ice was not enough to stop the Pius X Ministry Team from hosting its first Restore on February 27.