Wrestlers enjoy camp, mass at Okie State
Student-athletes and coaches of Pius X wrestling attended a summer camp at Oklahoma State University in Stillwater. They were one of 30 teams from across the country. The team went to Mass and had a picture with Head Coach and Olympic Gold Medalist John Smith, Fr. Kerry Wakulich, and others. The Pius X Team included: Evan Fuchs, Jacob Reiber, Zane Faust, Luke Andres, Cole Schulzkump, Jayden Schriner, Nick McCarthy, Brayden Williams, Jake Bohy, Matt Bruns, Drake Stuhr and Micheal Cisneros. Coaches were Jerry Clinch, Adam Kerr, Duane Reiber.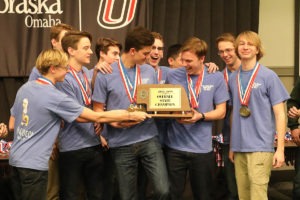 Pius X won the 2019 Academic Decathlon State Championship at the University of Nebraska Omaha. The highest scoring student from Pius X was Isaac Kramer.
The National Honor Society at Pius X held its annual honors event on February 11 in the LPAC. Students were honored for their academics and service.
Eight Thunderbolt wrestlers have qualified for this week's state wrestling championships. The meet takes place at the CHI Center in Omaha this Thursday, Friday and