Summer runners take initiative, head start on fall season
For about four weeks during the summer – before the fall cross country season starts – these runners are taking the training into their hands. Hear from seniors Madison Schafers (St. Peter) and Gemma Volkmer (North American Martyrs), and junior Gavin Skorupa (St. Joseph) about the summer running plan and benefits.
Related Information
Fall Sports Practices begin Aug. 6
What the runners say about Summer Running
GAVIN: Alright so summer runs are just for kids who, mainly for kids who just want to start early before the season starts to get in shape. And then for me personally, I just do it kind of as a team building thing and run with the team and get ready for the season.
MADISON: I really do because during the summer it's really hard to try and like train before summer runs start. But it's a lot easier when you have your group of teammates and they just make it fun and easier to wake up in the morning.
GEMMA: We need to get in shape. It's a lot easier when you have someone to run with you and they motivate you and help push you to do your best.
MADISON: We meet a lot of places all over town. We meet at Cathedral, we meet here, the zoo, we run at MOPAC, and Holmes Lake.
GEMMA In the beginning it's just about trying to get endurance, but toward the ends of summer runs you are trying to hit certain paces.
MADISON: Usually we go about three-and-a-half miles, and it's just good to get the girls and guys in shape and just kind of get used to running that distance for when we start practicing.
GAVIN: Usually it's just like a slower, like easy-paced run just to get kids ready, you know, it's not like anything hard. And then on Wednesdays, like today, after our run we'll go down to the track and we'll do a little bit of speed just for kids to get used to that when the season starts.
MADISON: We are just getting ready for our practice season. It's really important for people to be training before practice starts so that when we come into practice for we don't have to take the first couple weeks to get into shape because we are already there so we can start working right away.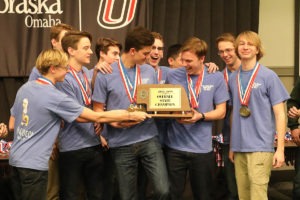 Pius X won the 2019 Academic Decathlon State Championship at the University of Nebraska Omaha. The highest scoring student from Pius X was Isaac Kramer.
The National Honor Society at Pius X held its annual honors event on February 11 in the LPAC. Students were honored for their academics and service.
Eight Thunderbolt wrestlers have qualified for this week's state wrestling championships. The meet takes place at the CHI Center in Omaha this Thursday, Friday and