Sander honored for work in academics, athletics, community
Junior Kloee Sander was honored today as one of the 25 high school student-athlete finalists for the U.S. Army-Pro Football Hall of Fame Award for Excellence.
In an all-school assembly, Sander was recognized for her successes in the classroom, in athletics, and in the community. She is the daughter of Ken and Jennifer Sander.
Kloee was joined by members of the U.S. Army and pro football Hall-of-Famer Andre Trippet, a former linebacker for the New England Patriots. The announcement of the national winner will be made in August. Principal Tom Korta and Spanish teacher Karen Bonkiewicz were also honored for their work in helping students.
From the Pro Football Hall of Fame
The program, now in its sixth year, highlights the achievements of student-athletes across the country.
The Award for Excellence program is open to all sophomore, junior and senior level high school student athletes in the United States. The honor focuses on great athletic achievement, excellence in academics and community engagement.
"The Pro Football Hall of Fame is proud to partner with the U.S. Army to pay tribute to the fine young men and women who will shape the future of our country. Congratulations to the 25 finalists in 2018 who exemplify the Hall's core values of commitment, integrity, courage, respect and excellence," commented George Veras, Pro Football Hall of Fame chief operating officer and executive producer.
"The Army is proud to honor this group of outstanding student-athletes, with the Pro Football Hall of Fame, as the 2018 Award for Excellence finalists," said Elizabeth Wilson, deputy assistant secretary of the Army (marketing). "Like Army Soldiers, these students have shown not only a relentless drive to succeed for themselves, their families and their schools, but also to serve. The Army congratulates the finalists on this distinction, as well as those who have helped them to achieve their goals."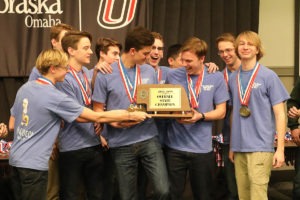 Pius X won the 2019 Academic Decathlon State Championship at the University of Nebraska Omaha. The highest scoring student from Pius X was Isaac Kramer.
The National Honor Society at Pius X held its annual honors event on February 11 in the LPAC. Students were honored for their academics and service.
Eight Thunderbolt wrestlers have qualified for this week's state wrestling championships. The meet takes place at the CHI Center in Omaha this Thursday, Friday and