Pius X Athletic Department announced Wednesday that George O'Boyle will retire as head coach of Pius X track & field, and longtime assistant Bill Rice will take over the position.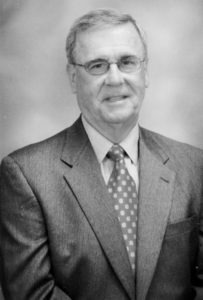 Coach O'Boyle's teams earned 15 District Track championships: 10 Girls (1977, 78, 80, 82, 83, 88, 2012, 14, 17, 18) and 5 boys (1975, 83, 84, 88, 89) during his tenure. His teams also won the state championship in 1982 (girls) and 1984 (boys) and earned state runner-up in girls in 1978, 1983, 2013, and in boys in 1983, 1997, 2013.
"I competed in track and field in high school and at the University of Nebraska so I've always had a love for track and field," O'Boyle said. "Just being here at Pius X, I've enjoyed all the student athletes. The main thing here at Pius X is the way our kids compete. As a coach that's what it's all about."
O'Boyle was only the second – and Rice will be the third – head track and field coach in Pius X history.
Pius X athletic director Tim Aylward said O'Boyle's commitment to the student-athletes at the school is worthy of honor.
"The Pius X athletic community would like to thank Coach O'Boyle for his many years of commitment and unwavering dedication as the head track coach." Aylward said. "He has served as an example of selflessness and passion and has influenced in a lot of athletes he's worked with in a very positive way. We are grateful for his unfaltering commitment to the Pius X track and field teams.
O'Boyle's impact on student-athletes is still evident today as they fondly remember their own days as a student-athlete. Rice called O'Boyle an iconic figure in the state for track & field.
"I believe that most all of George's former athletes would agree that he had a tremendous influence on the way they lived their lives after competing for him," Rice said. "George has meant the world to me and has been a great influence on my life both as a coach and as a person."
Rice takes over the head coaching role in track & field after retiring earlier this year from the same spot in the girls basketball program.
"It's a really special honor for me to have the opportunity to follow George O'Boyle as Head Track and Field Coach," Rice said. "I want to thank Coach Aylward and George for choosing me and believing in me to take over the head coaching position.
O'Boyle will stay active as an assistant coach for track and field and will continue as the head cross country coach where Rice will continue to be his assistant. O'Boyle became the head cross country coach when the program began.
"I had been looking for the last few years for somebody to take over the program, and then I talked with Tim when Bill gave up girls basketball," O'Boyle said. "We thought it'd be good idea for him to take over as head coach. It seemed like a good time."