Bolts add to sportsmanship conversations at new HAC event
Student-athletes from Pius X High School attended a new event as part of a new conference.
Pius X has officially joined the Heartland Athletic Conference and will start competing in its events this fall. Earlier this week, student-athletes attended a sportsmanship-themed event at Lincoln North Star High School.
Student-athletes from each of the conference's 11 high schools broke off into smaller group to discuss topics related to sportsmanship, covering topics such as on-the-court moments to themed dress-up ideas for student sections.
Pius X is now joined with these other high schools in the HAC: Fremont, Grand Island, Kearney, Lincoln East, Lincoln High, Lincoln North Star, Lincoln Northeast, Lincoln Southeast, Lincoln Southwest and Norfolk.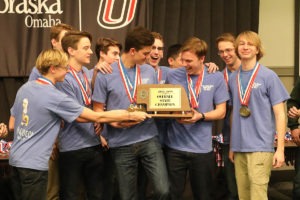 Pius X won the 2019 Academic Decathlon State Championship at the University of Nebraska Omaha. The highest scoring student from Pius X was Isaac Kramer.
The National Honor Society at Pius X held its annual honors event on February 11 in the LPAC. Students were honored for their academics and service.
Eight Thunderbolt wrestlers have qualified for this week's state wrestling championships. The meet takes place at the CHI Center in Omaha this Thursday, Friday and