AcaDeca teams finishes season sixth in nation
Pius X High School's Academic Decathlon team represented the state of Nebraska at the National Competition in Minneapolis April 25-27. The team placed 6th nationally and brought home 10 individual medals in the fields of Art History, Essay, Science, Music, Literature, and Math.
Congratulations to their coaches Ann Kotopka and Alex Hain and to the competitors Isaac Kramer, Thomas Kotopka, Kolbe Villa, Wally Langdon, Brandon Birch, John Michael Hewitt, Kellen Knotwell, and Logan Uttecht.
Medals earned:
Honors:
Isaac Kramer-Highest Pius score, Most Valuable Team Player, Silver in Art History
Thomas Kotopka-Silver in Art History
Kolbe Villa-Silver in Art History 
(All three of these Honor students missed only 1 question on the Art History exam, tying each other for the Silver medal)
Scholastic:
Wally Langdon-Silver in Music, Bronze in Art and Literature
Brandon Birch-Bronze in Essay, Gold in Math
Varsity:
John Michael Hewitt-Bronze in Art History
Logan Uttecht-Bronze in Science
View our photos from the 2019 Graduation Ceremony on May 19.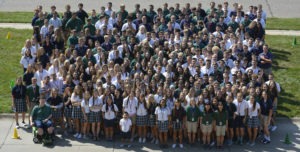 The Class of 2019 shares their favorite classes, activities, places on campus, and the impact Pius X had on their faith. Read about the many colleges and career paths that await.
The 2019 Senior Mass & Breakfast (at St. Joseph Catholic Church and Embassy Suites) celebrated the success of our students and the journey of faith