What is an Athletic Trainer?
Athletic trainers (ATs) are highly qualified, multi-skilled health care professionals who collaborate with physicians to provide preventative services, emergency care, clinical diagnosis, therapeutic intervention and rehabilitation of injuries and medical conditions.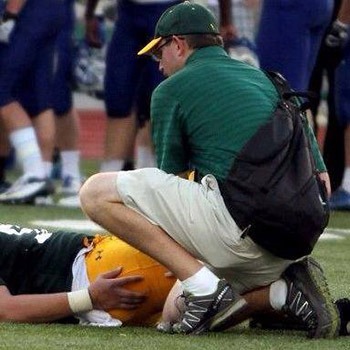 Training Room Hours:
2:30 – 4:30 
Event/Practice Coverage:
4:30 – 6:30 or until End of Event.
Pius X High School Safety Protocols
Drew Erks, MSEd, ATC has been providing Athletic Training services to the Pius X Community for 6 years, and has been an Athletic Trainer for over 15 years.  Collaborating with other Healthcare Providers (Physical Therapists, Orthopaedic Surgeons, Family Practice Dr's, Physcian Assistants, etc), Pius X Students have primary access to Sports Medicine care on a daily basis.  This includes, but is not limited to:  On-Field Emergency Care,  Injury Assessments, Baseline Nuerocognitive  (ImPACT) testing, Rehabilitation, Injury Prevention, and referrals to other licensed Healthcare Providers.