Woodworking class gets tools, first cut on miter saw
Students in Don McKee's Machine Woodworking class had two big moments this week: They received a donation of Stanley Black & Decker tools, and had the first student use the new-to-Pius X miter saw. Freshman Colton Cederberg made the first cut. All students have to score a 90% or better on a safety test before being allowed to use the machine. Students are currently making nightstands.
Learn more about our Industrial Technology department.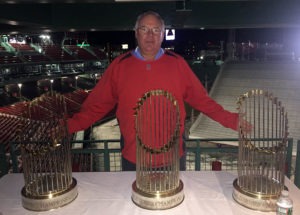 Red Sox baseball scout leads Petersen '78 to many fields around country Fred Petersen is a 1978 graduate of Pius X High School. What is
Melissa Ohden's story isn't just about one life. It involves her mother, grandmother, nurses, kids, strangers, estranged family, her abortionist. And the delivery of God's grace and love.
Today was Apply2College Day where Pius X High School dedicates the library, computers and iPads, counselors and even college admissions staff to help our students through the online college application process.