Senior accepts fellowship with Students for Life
Hannah Hoge, a senior-to-be this Fall at Pius X, has received a fellowship with Students for Life.
The fellowship, the Thaddeus Stevens Fellowship, includes an expense-paid trip to Washington, D.C.
This is an ongoing fellowship where she will dedicate a few hours every week to study, reading, and phone/video conferences with the group throughout the next year.
About the Fellowship with Students for Life
The SFLA Stevens Leadership Fellowship encompasses all the training you need for a future in the pro-life movement! The mission of this fellowship is to raise up the next generation of pro-life leaders. We want to train high school pro-life activists to be leaders at your schools (and beyond) and to connect you with expert mentors in the national pro-life movement to help further develop your skills. Learn more
Related Stories
'Awareness Night' at softball game promotes health Pius X Softball held an 'Awareness Game' on September 20, 2018 vs. Lincoln East, to remind people about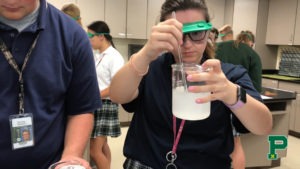 Students in Advanced Chemistry built an electrolytic cell to split water into its gases as part of its electrolysis lab project in class.
A beautiful morning for marching band practice and photos! The band will be performing at the Apple Jack Festival this Saturday in Nebraska City.