Wrestlers enjoy camp, mass at Okie State
Student-athletes and coaches of Pius X wrestling attended a summer camp at Oklahoma State University in Stillwater. They were one of 30 teams from across the country. The team went to Mass and had a picture with Head Coach and Olympic Gold Medalist John Smith, Fr. Kerry Wakulich, and others. The Pius X Team included: Evan Fuchs, Jacob Reiber, Zane Faust, Luke Andres, Cole Schulzkump, Jayden Schriner, Nick McCarthy, Brayden Williams, Jake Bohy, Matt Bruns, Drake Stuhr and Micheal Cisneros. Coaches were Jerry Clinch, Adam Kerr, Duane Reiber.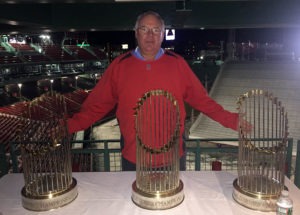 Red Sox baseball scout leads Petersen '78 to many fields around country Fred Petersen is a 1978 graduate of Pius X High School. What is
Melissa Ohden's story isn't just about one life. It involves her mother, grandmother, nurses, kids, strangers, estranged family, her abortionist. And the delivery of God's grace and love.
Today was Apply2College Day where Pius X High School dedicates the library, computers and iPads, counselors and even college admissions staff to help our students through the online college application process.