Service a home run for softball team, CK Sisters
The Pius X softball team headed out to the School Sisters of Christ the King this morning for 'Softball Service Saturday.' Players and coaches helped the sisters clean up their grounds, had an outdoor Mass with Pius X chaplain Fr. Bernardo, and had a hotdog cookout afterward with the sisters. Great morning of service and fun!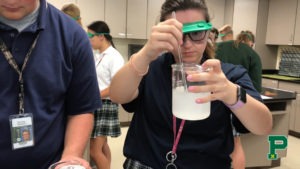 Students in Advanced Chemistry built an electrolytic cell to split water into its gases as part of its electrolysis lab project in class.