Psota named girls basketball coach at Pius X
Pius X High School has announced Ryan Psota as its new head coach for girls basketball. Psota has been an assistant for the girls team for 18 years, the last 16 as a varsity assistant coach for Bill Rice, who retired as head coach after this past season.
"I am very honored and excited for the opportunity to lead our girls basketball program as we continue in Class A and head into the Heartland Athletic Conference," said Psota, who will be the eighth head girls coach in Pius X history. "I will work to sustain and improve upon the great success the program already achieves."
Psota is also currently an assistant coach for track and field, and has also been an assistant football coach for the Thunderbolts. He is a Business Education teacher for Pius X.
Tim Aylward, Pius X Athletic Director, said Psota's familiarity with the program will help continue the team's success.
"Ryan Psota brings a lot of coaching experience to the position of head girls basketball coach," Aylward said. "Ryan is a good fit, and should lead the program in the outstanding manner it has been by Bill Rice."
Psota said the hard-working student-athletes at Pius X should help in the transition to his new role.
"The transition should be smooth, because at Pius, we have outstanding young ladies in our program, with great character, who desire to compete at a high level and strive to be champions," he said. "We also have very supportive parents and alumni who care about the development of student-athletes. I want to thank the administration at Pius X, and especially Father Meysenburg, Coach Aylward and Coach Bill Rice for the opportunity to continue the Pius X basketball tradition."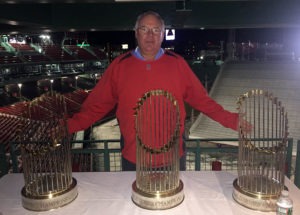 Red Sox baseball scout leads Petersen '78 to many fields around country Fred Petersen is a 1978 graduate of Pius X High School. What is
Melissa Ohden's story isn't just about one life. It involves her mother, grandmother, nurses, kids, strangers, estranged family, her abortionist. And the delivery of God's grace and love.
Today was Apply2College Day where Pius X High School dedicates the library, computers and iPads, counselors and even college admissions staff to help our students through the online college application process.