Higgins shares story of school, future, faith, DMD
Senior Hayden Higgins shares part of story of school, his future, his faith and Duchenne Muscular Dystrophy. Pius X football coaches and school staff are taking part in this weekend's special campaign to promote awareness of MD.
Coach To Cure MD is a partnership between the American Football Coaches Association, and Parent Project Muscular Dystrophy. Parent Project Muscular Dystrophy does not contribute to any embryonic steel cell research. All of their support goes directly to research for DMD only.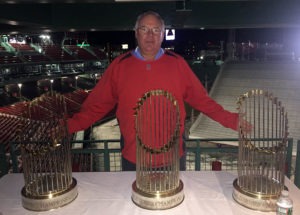 Red Sox baseball scout leads Petersen '78 to many fields around country Fred Petersen is a 1978 graduate of Pius X High School. What is
Melissa Ohden's story isn't just about one life. It involves her mother, grandmother, nurses, kids, strangers, estranged family, her abortionist. And the delivery of God's grace and love.
Today was Apply2College Day where Pius X High School dedicates the library, computers and iPads, counselors and even college admissions staff to help our students through the online college application process.