Statewide campaign promotes athletic trainers' role in football safety
Pius X athletic trainer Drew Erks is part of a statewide campaign to promote the skills of the professions, specifically when it comes to football safety.
A press release states: "The Nebraska State Athletic Trainers' Association (NSATA) has organized a "Safety in Football Campaign" in order to promote increased safety in football in the State of Nebraska. It is the goal of the "Safety in Football Campaign" to help each and every football team in Nebraska – identify ways in which they can lessen the risks of injury and keep the focus on the fun and camaraderie of football. In other words, Safety in Athletics begins with having an Athletic Trainer."
"Beginning on Thursday, August 23rd, 2018 and culminating with the weekend of August 31st, 2018, numerous high schools and colleges will be donning a small helmet sticker on the back of each player's helmet."
"The sticker represents the cumulative efforts of these schools and the NSATA towards improving safety in youth football in the state of Nebraska."
Videos: Value of an athletic trainer
Ryan Kearney, Football Coach
Tim Aylward, Athletic Director
Austin and Grant, student-athletes
'Awareness Night' at softball game promotes health Pius X Softball held an 'Awareness Game' on September 20, 2018 vs. Lincoln East, to remind people about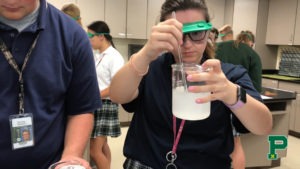 Students in Advanced Chemistry built an electrolytic cell to split water into its gases as part of its electrolysis lab project in class.
A beautiful morning for marching band practice and photos! The band will be performing at the Apple Jack Festival this Saturday in Nebraska City.