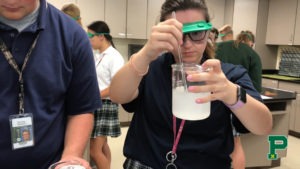 Students in Advanced Chemistry built an electrolytic cell to split water into its gases as part of its electrolysis lab project in class.
Homecoming Tailgate Sponsors
5:30 - 7 p.m.
Food, Friends and Fun
Join us for a free-will supper to include your choice of hot dogs, pulled pork, or chicken tenders, and chips, refreshments and cookies – fun and fellowship too! Activities for kids include Pius X kid friendly tattoos and bounce houses. ** This year's tailgate is in the school Commons (southeast corner of the school) due to construction. Football game, marching band and crowning of the royalty starts at 7 p.m. at Aldrich Field.
7 p.m.
Thunderbolt Football
Cheer for Pius X in its football game against Millard South.
Halftime
Festivities and Crowning
Stay for halftime performances and the crowning of Homecoming Royalty.
2017 Homecoming Photo Gallery